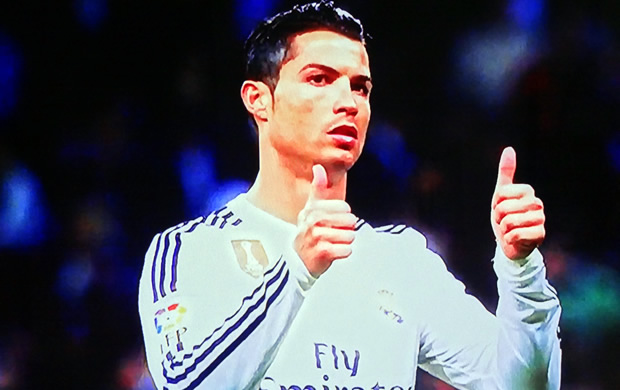 Portuguese professional footballer (soccer player) Cristiano Ronaldo is one of the top players of his generation. He's won numerous awards with Manchester United and Real Madrid and is also a well known sports celebrity off the pitch who is currently leading athletes on Facebook with the most likes at 118 million.
Check out Cristiano Ronaldo on Social Buzz and get current updates from him on Facebook and Twitter.
Cristiano Ronaldo Fast Facts:
Born: February 5, 1985 in Funchal, Madeira, Portugal.
Nicknames: Cris, Ron, Ronnie, The Sultan Of The Stepover, CR7
Championship titles: With Manchester United and Real Madrid, Ronaldo has won three Premier Leagues, one La Liga, one FA Cup, two Football League Cups, two Copas del Rey, one FA Community Shield, one Supercopas de España, two UEFA Champions Leagues, one UEFA Super Cup and two FIFA Club World Cups.
At age 15 Ronaldo was diagnosed with a heart condition and had to undergo surgery of which he made a full recovery.
His father named him after former American President Ronald Reagan.
Signed with Manchester United in 2003 and was their first-ever Portuguese player.
He plays the forward position and is also captain for the Portugal national team.
Has won four European Golden Shoe awards.
In 2008, he won his first Ballon d'Or/ FIFA World Player of the Year award (FIFA World Player of the Year was renamed the FIFA Ballon d'Or in 2010).
Won the FIFA Ballon d'Or in 2008, 2013, 2014 and 2016.
In 2013–14 and the 2015-16 season's he won the UEFA Best Player in Europe Award.
Ronaldo is the first Portuguese footballer to win four FIFA Ballons d'Or awards.
Ronaldo is Portugal's top goalscorer of all time with over 65 goals in international competition.
Sources:
http://www.imdb.com/name/nm1860184/bio
http://www.biography.com/people/cristiano-ronaldo-555730#success-with-manchester-united
http://www.britannica.com/EBchecked/topic/1567988/Cristiano-Ronaldo
http://en.wikipedia.org/wiki/Cristiano_Ronaldo