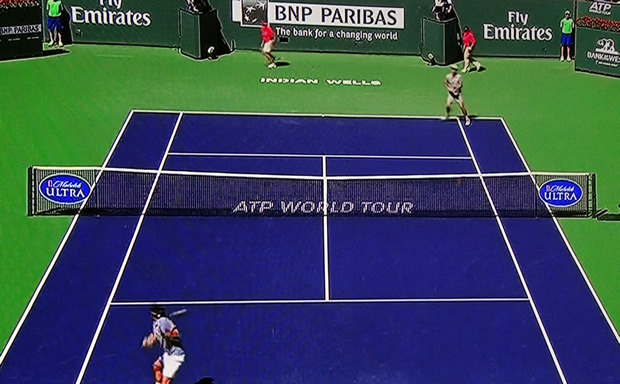 See a complete list of Indian Wells Tennis Men's Champions. Dominic Thiem of Switzerland won the 2019 Indian Wells Tennis Men's Championship.

Fast Facts:
Novak Djokovic has won the Indian Wells title five times and Roger Federer has four titles under his belt.
In 1980 the finals were not played due to rain.
The Indian Wells tournament is currently known by its sponsored name, BNP Paribas Open.
Indian Wells Tennis Men's Champions:
| | | | |
| --- | --- | --- | --- |
| Year | Champion | Runner-up | Score |
| 2019 | Dominic Thiem (SUI) | Roger Federer (SUI) | 3–6, 6–3, 7–5 |
| 2018 | Juan Martín del Potro (ARG) | Roger Federer (SUI) | 6–4, 6–7(8–10), 7–6(7–2) |
| 2017 | Roger Federer (SUI) | Stan Wawrinka (SUI) | 6-4, 7-5 |
| 2016 | Novak Djokovic (SRB) | Milos Raonic (CAN) | 6-2, 6-0 |
| 2015 | Novak Djokovic (SRB) | Roger Federer (SUI) | 6-3, 6-7(5-7), 6-2 |
| 2014 | Novak Djokovic (SRB) | Roger Federer (SUI) | 3-6, 6-3, 7-6(7-3) |
| 2013 | Rafael Nadal (SPN) | Juan Martín del Potro (ARG) | 4-6, 6-3, 6-4 |
| 2012 | Roger Federer (SUI) | John Isner (USA) | 7-6(9-7), 6-3 |
| 2011 | Novak Djokovic (SRB) | Rafael Nadal (SPN) | 4-6, 6-3, 6-2 |
| 2010 | Ivan Ljubičić (CRO) | Andy Roddick (USA) | 7-6(7-3), 7-6(7-5) |
| 2009 | Rafael Nadal (SPN) | Andy Murray (GBR) | 6-1, 6-2 |
| 2008 | Novak Djokovic (SRB) | Mardy Fish (USA) | 6-2, 5-7, 6-3 |
| 2007 | Rafael Nadal (SPN) | Novak Djokovic (SRB) | 6-2, 7-5 |
| 2006 | Roger Federer (SUI) | James Blake (USA) | 7-5, 6-3, 6-0 |
| 2005 | Roger Federer (SUI) | Lleyton Hewitt (AUS) | 6-2, 6-4, 6-4 |
| 2004 | Roger Federer (SUI) | Tim Henman (GBR) | 6-3, 6-3 |
| 2003 | Lleyton Hewitt (AUS) | Gustavo Kuerten (BRA) | 6-1, 6-1 |
| 2002 | Lleyton Hewitt (AUS) | Tim Henman (GBR) | 6-1, 6-2 |
| 2001 | Andre Agassi (USA) | Pete Sampras (USA) | 7-6(7-5), 7-5, 6-1 |
| 2000 | Àlex Corretja (SPN) | Thomas Enqvist (SWE) | 6-4, 6-4, 6-3 |
| 1999 | Mark Philippoussis (AUS) | Carlos Moyà (SPN) | 5-7, 6-4, 6-4, 4-6, 6-2 |
| 1998 | Marcelo Ríos (CHL) | Greg Rusedski (GBR) | 6-3, 6-7(15-17), 7-6(7-4), 6-4 |
| 1997 | Michael Chang (USA) | Bohdan Ulihrach (CZE) | 4-6, 6-3, 6-4, 6-3 |
| 1996 | Michael Chang (USA) | Paul Haarhuis (NLD) | 7-5, 6-1, 6-1 |
| 1995 | Pete Sampras (USA) | Andre Agassi (USA) | 7-5, 6-3, 7-5 |
| 1994 | Pete Sampras (USA) | Petr Korda (CZE) | 4-6, 6-3, 3-6, 6-3, 6-2 |
| 1993 | Jim Courier (USA) | Wayne Ferreira (RSA) | 6-3, 6-3, 6-1 |
| 1992 | Michael Chang (USA) | Andrei Chesnokov (RUS) | 6-3, 6-4, 7-5 |
| 1991 | Jim Courier (USA) | Guy Forget (FRA) | 4-6, 6-3, 4-6, 6-3, 7-6(7-4) |
| 1990 | Stefan Edberg (SWE) | Andre Agassi (USA) | 6-4, 5-7, 7-6(7-1), 7-6(8-6) |
| 1989 | Miloslav Mečíř (CZE) | Yannick Noah (FRA) | 3-6, 2-6, 6-1, 6-2, 6-3 |
| 1988 | Boris Becker (GER) | Emilio Sánchez (SPN) | 7-5, 6-4, 2-6, 6-4 |
| 1987 | Boris Becker (GER) | Stefan Edberg (SWE) | 6-4, 6-4, 7-5 |
| 1986 | Joakim Nyström (SWE) | Yannick Noah (FRA) | 6-1, 6-3, 6-2 |
| 1985 | Larry Stefanki (USA) | David Pate (USA) | 6-1, 6-4, 3-6, 6-3 |
| 1984 | Jimmy Connors (USA) | Yannick Noah (FRA) | 6-2, 6-7(7-9), 6-3 |
| 1983 | José Higueras (SPN) | Eliot Teltscher (USA) | 6-4, 6-2 |
| 1982 | Yannick Noah (FRA) | Ivan Lendl (CZE) | 6-4, 2-6, 7-5 |
| 1981 | Jimmy Connors (USA) | Ivan Lendl (CZE) | 6-3, 7-6 |
| 1979 | Roscoe Tanner (USA) | Brian Gottfried (USA) | 6-4, 6-2 |
| 1978 | Roscoe Tanner (USA) | Raúl Ramírez (MEX) | 6-1, 7-6 |
| 1977 | Brian Gottfried (USA) | Guillermo Vilas (ARG) | 2-6, 6-1, 6-3 |
| 1976 | Jimmy Connors (USA) | Roscoe Tanner (USA) | 6-4, 6-4 |
| 1975 | John Alexander (AUS) | Ilie Năstase (ROM) | 7-5, 6-2 |
| 1974 | John Newcombe (AUS) | Arthur Ashe (USA) | 6-3, 7-6 |