World Cup
The World Cup hosts Russia at a glance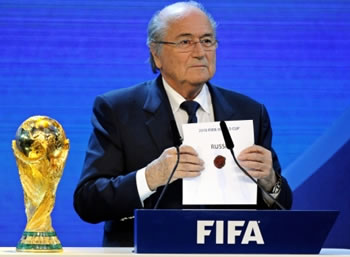 Russia and Qatar are the winners of the World Cup double award. Both promise tournaments that will overshadow all previous events of this kind.
The governing body FIFA has once again broken new ground. For the first time ever, Russia will host the World Cup finals.
Russia:
The members of the Executive Committee were persuaded by the gigantic application of the Russians.

$ 3,820,000,000 (2.9 billion euros) will be invested. Moscow will become the center of attention as four sites of the World Cup in 2018 will take place there.
Prime Minister Vladimir Putin, who now even at short notice flew to Zurich for the victory celebration, has been set early on at the head of Russia's candidacy, even though he was short of the championship award in Zurich.
Public Transportation for free
The former president gave the necessary government guarantees, secured visa-free travel to and for fans in possession of tickets.
And as a special bonus is for ticket holders – free use of public transportation by rail and road.
Organizers are facing huge challenges due to the vast distances in Russia.
But the opportunity to improve through the World Cup, the structures in the former tsarist empire fundamentally and sustainably has led to a spirit of optimism in Russia. The World Cup was a national matter. It should not be spilled, but padded.
Sports Minister: "Reveal new dimensions"
"Russia reveals new dimensions to FIFA," sports minister Vitaly Mutko reveled throughout the final present­ation. Pole vault world record holder Yelena Isinbayeva added: "The 2018 World Cup would be like another world record – only with a huge leap."
The Russian national team however would have to improve its performance until 2018 quite a bit.
In the EURO 2008 in Switzerland and Austria "Sbornaja" (Russian national football team) seemed as semi-finalists on the right track, but then failed in the qualifiers for World Cup 2010 in South Africa in the group stage against Germany, and eventually in the play-offs.
Legionnaires to improve national league
A major setback, despite coach Guus Hiddink the dutch coaching-icon.
The conditions for a postive developemnt though are given. The Russian league already has been improved by adding numerous Legionnaires and hence it has become much stronger.
They should help to improve the local players so that the Russian team at the World Championships can play a major role.
Key Facts:
World Cup hosts 2018:       Russia
Number of host cities:        13Number of planned stages: 16
Investment cost:                  $ 3,820,000,000
Number of Tickets:              3.141 million
Best-known stages:              Luzhniki (Moscow), Kirov Stadium (St. Petersburg, under construction)
Population:                           140 million
Number of clubs:                 100,000, 100 professional clubs
World Cup success story:   World Cup semifinals in 1966
Appearances:                       9 (including seven as the USSR)
All-Stars:                                Lev Yashin, Rinat Dassajew
Feature:                                 Oleg Salenko scored at the 1994 World Cup in the USA five goals against Cameroon (6:1) and set a new record