NCAA
NCAA Division I Women's Soccer Champions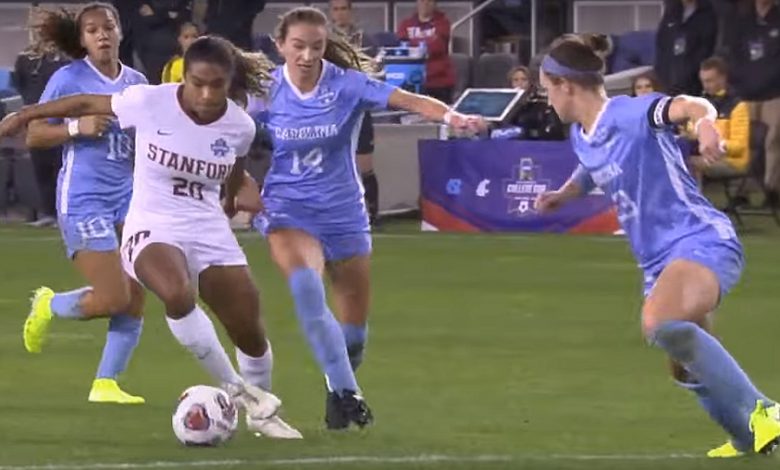 See a complete list of NCAA Division I Women's Soccer Championship titleholders. The winner of the 2019 Championship title also known as the Women's College Cup is Stanford. In winning their third title, Standford defeated North Carolina in penalty kicks 5-4 after the official game time ended 0-0.
Fast Facts:
The NCAA Women's Soccer Championship tournament started in 1982 with 12 teams.
North Carolina has won the most championship titles with 21 wins and 4 time as runner-up.
NCAA Division I Women's Soccer Champions:
Year
Champion
Score
Runner-up
Location
2019
Stanford (3)
0–0
(5-4 pen.)
North Carolina
San Jose, CA
2018
Florida State (2)
1–0
North Carolina
Cary, North Carolina
2017
Stanford (2)
3–2
UCLA
Orlando, Florida
2016
USC (2)
3–1
West Virginia
San Jose, California
2015
Penn State
1–0
Duke
Cary, North Carolina
2014
Florida State
1–0
Virginia
Boca Raton, Florida
2013
UCLA
1-0
(OT)
Florida State
Cary, North Carolina
2012
North Carolina (21)
4–1
Penn State
San Diego
2011
Stanford
1–0
Duke
Kennesaw, Georgia
2010
Notre Dame (3)
1–0
Stanford
Cary, North Carolina
2009
North Carolina (20)
1–0
Stanford
College Station, Texas
2008
North Carolina (19)
2–1
Notre Dame
Cary, North Carolina
2007
USC
2–0
Florida State
College Station, Texas
2006
North Carolina (18)
2–1
Notre Dame
Cary, North Carolina
2005
Portland (2)
4–0
UCLA
College Station, Texas
2004
Notre Dame (2)
1–1
(4–3 pen.)
UCLA
Cary, North Carolina
2003
North Carolina (17)
6–0
Connecticut
Cary, North Carolina
2002
Portland
2–1
(OT)
Santa Clara
Austin, Texas
2001
Santa Clara
1–0
North Carolina
University Park, Texas
2000
North Carolina (16)
2–1
UCLA
San Jose, California
1999
North Carolina (15)
2–0
Notre Dame
San Jose, CA
1998
Florida
1–0
North Carolina
Greensboro, NC
1997
North Carolina (14)
2–0
Connecticut
Greensboro, NC
1996
North Carolina (13)
1–0
(2OT)
Notre Dame
Santa Clara, CA
1995
Notre Dame
1–0
(3OT)
Portland
Chapel Hill, NC
1994
North Carolina (12)
5–0
Notre Dame
Portland, OR
1993
North Carolina (11)
6–0
George Mason
Chapel Hill, NC
1992
North Carolina (10)
9–1
Duke
Chapel Hill, NC
1991
North Carolina (9)
3–1
Wisconsin
Chapel Hill, NC
1990
North Carolina (8)
6–0
Connecticut
Chapel Hill, NC
1989
North Carolina (7)
2–0
Colorado College
Raleigh, NC
1988
North Carolina (6)
4–1
NC State
Chapel Hill, NC
1987
North Carolina (5)
1–0
Massachusetts
Amherst, MA
1986
North Carolina (4)
2–0
Colorado College
Fairfax, VA
1985
George Mason
2–0
North Carolina
Fairfax, VA
1984
North Carolina (3)
2–0
Connecticut
Chapel Hill, NC
1983
North Carolina (2)
4–0
George Mason
Orlando, FL
1982
North Carolina
1–0
Central Florida
Orlando, FL