Marathon
London Marathon Men's and Women's Champions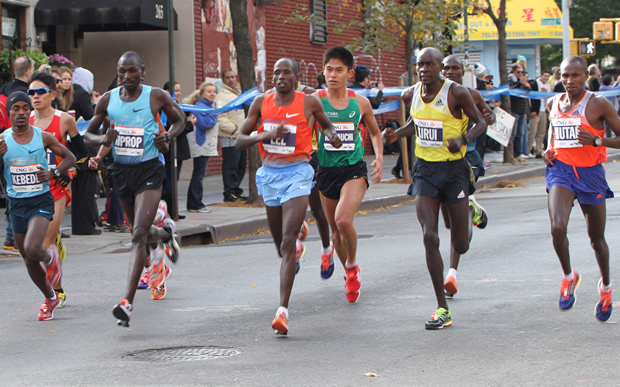 See a complete list of London Marathon Men's and Women's Champions. The 2019 London Marathon was won by Kenyan's Daniel Wanjiru on the men's side and Brigid Kosgei on the women's side.
Fast Facts:
The London Marathon is one of the six World Marathon Majors.
The first race for both Men and Women was ran on March 29, 1981.
In the inaugural race in 1981, Dick Beardsley of the US and Inge Simonsen of Norway tied for first place in a time of 2:11:48.
Winners of the London Marathon:
| | | | | | |
| --- | --- | --- | --- | --- | --- |
| Year | Men | Time | Year | Women | Time |
| 2019 | Eliud Kipchoge (KEN) | 2:02:37 | 2019 | Brigid Kosgei (KEN) | 2:18:20 |
| 2018 | Eliud Kipchoge (KEN) | 2:04:17 | 2018 | Vivian Cheruiyot (KEN) | 2:18:31 |
| 2017 | Daniel Wanjiru (KEN) | 2:05:48 | 2017 | Mary Keitany (KEN) | 2:17:01 |
| 2016 | Eliud Kipchoge (KEN) | 2:03:05 | 2016 | Jemima Sumgong (KEN) | 2:22:58 |
| 2015 | Eliud Kipchoge (KEN) | 2:04:42 | 2015 | Tigist Tufa (ETH) | 2:23:21 |
| 2014 | Wilson Kipsang (KEN) | 2:04:29 | 2014 | Edna Kiplagat (KEN) | 2:20:21 |
| 2013 | Tsegaye Kebede (ETH) | 2:06:04 | 2013 | Priscah Jeptoo (KEN) | 2:20:15 |
| 2012 | Wilson Kipsang (KEN) | 2:04:44 | 2012 | Mary Keitany (KEN) | 2:18:37 |
| 2011 | Emmanuel Mutai (KEN) | 2:04:40 | 2011 | Mary Keitany (KEN) | 2:19:19 |
| 2010 | Tsegaye Kebede (ETH) | 2:05:19 | 2010 | Aselefech Mergia (ETH) | 2:22:38 |
| 2009 | Samuel Wanjiru (KEN) | 2:05:10 | 2009 | Irina Mikitenko (GER) | 2:22:11 |
| 2008 | Martin Lel (KEN) | 2:05:15 | 2008 | Irina Mikitenko (GER) | 2:24:14 |
| 2007 | Martin Lel (KEN) | 2:07:41 | 2007 | Zhou Chunxiu  China | 2:20:38 |
| 2006 | Felix Limo (KEN) | 2:06:39 | 2006 | Deena Kastor (USA) | 2:19:35 |
| 2005 | Martin Lel (KEN) | 2:07:35 | 2005 | Paula Radcliffe (GBR) | 2:17:42 |
| 2004 | Evans Rutto (KEN) | 2:06:18 | 2004 | Margaret Okayo (KEN) | 2:22:35 |
| 2003 | Gezahegne Abera (ETH) | 2:07:56 | 2003 | Paula Radcliffe (GBR) | 2:15:25 |
| 2002 | Khalid Khannouchi (USA) | 2:05:38 | 2002 | Paula Radcliffe (GBR) | 2:18:56 |
| 2001 | Abdelkader El Mouaziz (MAR) | 2:07:09 | 2001 | Derartu Tulu (ETH) | 2:23:57 |
| 2000 | António Pinto (PRT) | 2:06:36 | 2000 | Tegla Laroupe (KEN) | 2:24:33 |
| 1999 | Abdelkader El Mouaziz (MAR) | 2:07:57 | 1999 | Joyce Chepchumba (KEN) | 2:23:22 |
| 1998 | Abel Antón  Spain | 2:07:57 | 1998 | Catherina McKiernan (IRL) | 2:26:26 |
| 1997 | António Pinto (PRT) | 2:07:55 | 1997 | Joyce Chepchumba (KEN) | 2:26:51 |
| 1996 | Dionicio Cerón (MEX) | 2:10:00 | 1996 | Liz McColgan (GBR) | 2:27:54 |
| 1995 | Dionicio Cerón (MEX) | 2:08:30 | 1995 | Małgorzata Sobańska (POL) | 2:27:43 |
| 1994 | Dionicio Cerón (MEX) | 2:08:53 | 1994 | Katrin Dörre-Heinig (GER) | 2:32:34 |
| 1993 | Eamonn Martin (GBR) | 2:10:50 | 1993 | Katrin Dörre-Heinig (GER) | 2:27:09 |
| 1992 | António Pinto (PRT) | 2:10:02 | 1992 | Katrin Dörre-Heinig (GER) | 2:29:39 |
| 1991 | Yakov Tolstikov (SVU) | 2:09:17 | 1991 | Rosa Mota (PRT) | 2:26:14 |
| 1990 | Allister Hutton (GBR) | 2:10:10 | 1990 | Wanda Panfil (POL) | 2:26:31 |
| 1989 | Douglas Wakiihuri (KEN) | 2:09:03 | 1989 | Véronique Marot (GBR) | 2:25:56 |
| 1988 | Henrik Jørgensen (DNK) | 2:10:20 | 1988 | Ingrid Kristiansen (NOR) | 2:25:41 |
| 1987 | Hiromi Taniguchi (JPN) | 2:09:50 | 1987 | Ingrid Kristiansen (NOR) | 2:22:48 |
| 1986 | Toshihiko Seko (JPN) | 2:10:02 | 1986 | Grete Waitz (NOR) | 2:24:54 |
| 1985 | Steve Jones (GBR) | 2:08:16 | 1985 | Ingrid Kristiansen (NOR) | 2:21:06 |
| 1984 | Charlie Spedding (GBR) | 2:09:57 | 1984 | Ingrid Kristiansen (NOR) | 2:24:26 |
| 1983 | Mike Gratton (GBR) | 2:09:43 | 1983 | Grete Waitz (NOR) | 2:25:29 |
| 1982 | Hugh Jones (GBR) | 2:09:24 | 1982 | Joyce Smith (GBR) | 2:29:43 |
| 1981 | Dick Beardsley (USA) | 2:11:48 | 1981 | Joyce Smith (GBR) | 2:29:57 |
| 1981 | Inge Simonsen (NOR) | 2:11:48 | | | |