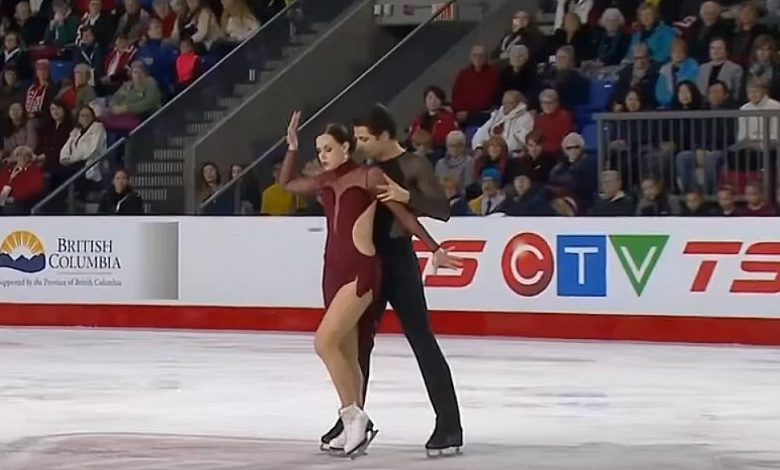 See a complete list of Canadian Figure Skating Pairs Champions. The 2020 Canadian Figure Skating Pairs Championship was won by the team of Kirsten Moore-Towers and Michael Marinaro.
Fast Facts:
The Canadian Championships started in 1905.
The Canadian Figure Skating Championships is held annually to crown the national Figure Skating champions of Canada.
The competition is used to help determine the Canadian teams to the World Figure Skating Championships, the World Junior Figure Skating Championships, and the Four Continents Figure Skating Championships, as well as the Canadian national team.
Competition was interrupted in 1907 and 1909, and from 1915 through 1919 due to the First World War, and 1943 due to the second World War.
Canadian Figure Skating Pairs Champions:
Year
Location
Gold
Silver
Bronze
2020
Mississauga
Kirsten Moore-Towers / Michael Marinaro
Evelyn Walsh / Trennt Michaud
Lubov Ilyushechkina / Charlie Bilodeau
2019
Saint John
Kirsten Moore-Towers / Michael Marinaro
Evelyn Walsh / Trennt Michaud
Camille Ruest / Drew Wolfe
2018
Vancouver
Meagan Duhamel / Eric Radford
Julianne Seguin / Charlie Bilodeau
Kirsten Moore-Towers / Michael Marinaro
2017
Ottawa
Meagan Duhamel / Eric Radford
Liubov Ilyushechkina / Dylan Moscovitch
Kirsten Moore-Towers / Michael Marinaro
2016
Halifax
Meagan Duhamel / Eric Radford
Julianne Seguin / Charlie Bilodeau
Liubov Ilyushechkina / Dylan Moscovitch
2015
Kingston
Meagan Duhamel / Eric Radford
Liubov Ilyushechkina / Dylan Moscovitch
Julianne Seguin / Charlie Bilodeau
2014
Ottawa
Meagan Duhamel / Eric Radford
Kirsten Moore-Towers / Dylan Moscovitch
Paige Lawrence / Rudi Swiegers
2013
Mississauga
Meagan Duhamel / Eric Radford
Kirsten Moore-Towers / Dylan Moscovitch
Paige Lawrence / Rudi Swiegers
2012
Moncton
Meagan Duhamel / Eric Radford
Jessica Dubé / Sébastien Wolfe
Paige Lawrence / Rudi Swiegers
2011
Victoria
Kirsten Moore-Towers / Dylan Moscovitch
Meagan Duhamel / Eric Radford
Paige Lawrence / Rudi Swiegers
2010
London
Jessica Dubé / Bryce Davison
Anabelle Langlois / Cody Hay
Meagan Duhamel / Craig Buntin
2009
Saskatoon
Jessica Dubé / Bryce Davison
Meagan Duhamel / Craig Buntin
Mylène Brodeur / John Mattatall
2008
Vancouver
Anabelle Langlois / Cody Hay
Jessica Dubé / Bryce Davison
Meagan Duhamel / Craig Buntin
2007
Halifax
Jessica Dubé / Bryce Davison
Valérie Marcoux / Craig Buntin
Anabelle Langlois / Cody Hay
2006
Ottawa
Valérie Marcoux / Craig Buntin
Jessica Dubé / Bryce Davison
Utako Wakamatsu / Jean-Sébastien Fecteau
2005
London
Valérie Marcoux / Craig Buntin
Utako Wakamatsu / Jean-Sébastien Fecteau
Anabelle Langlois / Patrice Archetto
2004
Edmonton
Valérie Marcoux / Craig Buntin
Anabelle Langlois / Patrice Archetto
Elizabeth Putnam / Sean Wirtz
2003
Saskatoon
Jacinthe Larivière / Lenny Faustino
Anabelle Langlois / Patrice Archetto
Elizabeth Putnam / Sean Wirtz
2002
Hamilton
Jamie Salé / David Pelletier
Jacinthe Larivière / Lenny Faustino
Anabelle Langlois / Patrice Archetto
2001
Winnipeg
Jamie Salé / David Pelletier
Kristy Sargeant / Kris Wirtz
Anabelle Langlois / Patrice Archetto
2000
Calgary
Jamie Salé / David Pelletier
Kristy Sargeant / Kris Wirtz
Valerie Saurette / Jean-Sébastien Fecteau
1999
Ottawa
Kristy Sargeant / Kris Wirtz
Jamie Salé / David Pelletier
Valerie Saurette / Jean-Sébastien Fecteau
1998
Hamilton
Kristy Sargeant / Kris Wirtz
Marie-Claude Savard-Gagnon / Luc Bradet
Valerie Saurette / Jean-Sébastien Fecteau
1997
Vancouver
Marie-Claude Savard-Gagnon / Luc Bradet
Kristy Sargeant / Kris Wirtz
Michelle Menzies / Jean-Michel Bombardier
1996
Ottawa
Michelle Menzies / Jean-Michel Bombardier
Kristy Sargeant / Kris Wirtz
Marie-Claude Savard-Gagnon / Luc Bradet
1995
Halifax
Michelle Menzies / Jean-Michel Bombardier
Allison Gaylor / David Pelletier
Jodeyne Higgins / Sean Rice
1994
Edmonton
Isabelle Brasseur / Lloyd Eisler
Kristy Sargeant / Kris Wirtz
Jamie Salé / Jason Turner
1993
Hamilton
Isabelle Brasseur / Lloyd Eisler
Michelle Menzies / Jean-Michel Bombardier
Jodeyne Higgins / Sean Rice
1992
Moncton
Isabelle Brasseur / Lloyd Eisler
Christine Hough / Doug Ladret
Sherry Ball / Kris Wirtz
1991
Saskatoon
Isabelle Brasseur / Lloyd Eisler
Christine Hough / Doug Ladret
Stacey Ball / Jean-Michel Bombardier
1990
Sudbury
Cindy Landry / Lyndon Johnston
Christine Hough / Doug Ladret
Isabelle Brasseur / Lloyd Eisler
1989
Chicoutimi
Isabelle Brasseur / Lloyd Eisler
Cindy Landry / Lyndon Johnston
Christine Hough / Doug Ladret
1988
Victoria
Christine Hough / Doug Ladret
Isabelle Brasseur / Lloyd Eisler
Denise Benning / Lyndon Johnston
1987
Ottawa
Cynthia Coull / Mark Rowsom
Denise Benning / Lyndon Johnston
Christine Hough / Doug Ladret
1986
North Bay
Cynthia Coull / Mark Rowsom
Denise Benning / Lyndon Johnston
Karen Westby / Lloyd Eisler
1985
Moncton
Cynthia Coull / Mark Rowsom
Melinda Kunhegyi / Lyndon Johnston
Christine Hough / Doug Ladret
1984
Regina
Katherina Matousek / Lloyd Eisler
Melinda Kunhegyi / Lyndon Johnston
Cynthia Coull / Mark Rowsom
1983
Montreal
Barbara Underhill / Paul Martini
Cynthia Coull / Mark Rowsom
Katherina Matousek / Lloyd Eisler
1982
Brandon
Barbara Underhill / Paul Martini
Lorrie Baier / Lloyd Eisler
Becky Gough / Mark Rowsom
1981
Halifax
Barbara Underhill / Paul Martini
Lorrie Baier / Lloyd Eisler
Becky Gough / Mark Rowsom
1980
Kitchener
Barbara Underhill / Paul Martini
Lorrie Baier / Lloyd Eisler
Becky Gough / Mark Rowsom
1979
Thunder Bay
Barbara Underhill / Paul Martini
Susan Gowan / Eric Thomsen
Lea-Ann Jackson / Bernard Souche
1978
Victoria
Sherri Baier / Robin Cowan
Lea-Ann Jackson / Paul Mills
Susan Gowan / Eric Thomsen
1977
Calgary
Cheri Pinner / Dennis Pinner
Janet Hominuke / Mark Hominuke
1976
London
Candy Jones / Don Fraser
Cheri Pinner / Dennis Pinner
Karen Newton / Glenn Laframboise
1975
Quebec City
Candy Jones / Don Fraser
Kathy Hutchinson / Jamie McGrigor
Christine McBeth / Dennis Johnston
1974
Moncton
Sandra Bezic / Val Bezic
Marian Murray / Glenn Moore
Kathy Hutchinson / Jamie McGrigor
1973
Vancouver
Sandra Bezic / Val Bezic
Marian Murray / Glenn Moore
Linda Tasker / Allen Carson
1972
London
Sandra Bezic / Val Bezic
Mary Petrie / John Hubbell
Marian Murray / Glenn Moore
1971
Winnipeg
Sandra Bezic / Val Bezic
Mary Petrie / John Hubbell
Marian Murray / Glenn Moore
1970
Edmonton
Sandra Bezic / Val Bezic
Mary Petrie / Robert McAvoy
1969
Toronto
Anna Forder / Richard Stephens
Mary Petrie / Robert McAvoy
Sandra Bezic / Val Bezic
1968
Vancouver
Betty McKilligan / John McKilligan
Anna Forder / Richard Stephens
Alexis Shields / Chris Shields
1967
Toronto
Betty McKilligan / John McKilligan
Alexis Shields / Chris Shields
Anna Forder / Richard Stephens
1966
Peterborough
Susan Huehnergard / Paul Huehnergard
Alexis Shields / Chris Shields
Betty McKilligan / John McKilligan
1965
Calgary
Susan Huehnergard / Paul Huehnergard
Alexis Shields / Chris Shields
Faye Strutt / Jim Watters
1964
North Bay
Debbi Wilkes / Guy Revell
Linda Ann Ward / Neil Carpenter
Faye Strutt / Jim Watters
1963
Edmonton
Debbi Wilkes / Guy Revell
Gertrude Desjardins / Maurice Lafrance
Linda Ann Ward / Neil Carpenter
1962
Toronto
Maria Jelinek / Otto Jelinek
Gertrude Desjardins / Maurice Lafrance
Debbi Wilkes / Guy Revell
1961
Lachine
Maria Jelinek / Otto Jelinek
Gertrude Desjardins / Maurice Lafrance
Debbi Wilkes / Guy Revell
1960
Regina
Barbara Wagner / Robert Paul
Maria Jelinek / Otto Jelinek
Debbi Wilkes / Guy Revell
1959
Noranda
Barbara Wagner / Robert Paul
Jane Sinclair / Larry Rost
Lise Petit / Ian Knight
1958
Ottawa
Barbara Wagner / Robert Paul
Maria Jelinek / Otto Jelinek
1957
Winnipeg
Barbara Wagner / Robert Paul
Maria Jelinek / Otto Jelinek
Barbara Bourne / Thomas Monypenny
1956
Galt
Barbara Wagner / Robert Paul
Maria Jelinek / Otto Jelinek
Dianne Neilson / Edwin Cossitt
1955
Toronto
Frances Dafoe / Norris Bowden
Barbara Wagner / Robert Paul
Audrey Downie / Brian Power
1954
Calgary
Frances Dafoe / Norris Bowden
Audrey Downie / Brian Power
Dawn Steckley / David Lowery
1953
Ottawa
Frances Dafoe / Norris Bowden
Dawn Steckley / David Lowery
1952
Oshawa
Frances Dafoe / Norris Bowden
Audrey Downie / Brian Power
1951
Vancouver
Jane Kirby / Donald Tobin
Frances Dafoe / Norris Bowden
Gayle Wakely / David Spalding
1950
St. Catharines
Marlene Smith / Donald Gilchrist
1949
Ottawa
Marlene Smith / Donald Gilchrist
Pearle Simmers / David Spalding
Joyce Perkins / Bruce Hyland
1948
Calgary
Suzanne Morrow / Wallace Diestelmeyer
Sheila Smith / Ross Smith
1947
Toronto
Suzanne Morrow / Wallace Diestelmeyer
Margaret Roberts / Bruce Hyland
1946
Toronto
Joyce Perkins / Wallace Diestelmeyer
Suzanne Morrow / Norris Bowden
1945
Toronto
Olga Bernyk / Alex Fulton
Sheila Smith / Ross Smith
1944
Toronto
1943
No competition held due to World War II
1942
Winnipeg
Eleanor O'Meara / Sandy McKechnie
Floraine Ducharme / Wallace Diestelmeyer
1941
Montreal
Eleanor O'Meara / Ralph McCreath
Norah McCarthy / Sandy McKechnie
1940
Ottawa
Norah McCarthy / Ralph McCreath
Christine Newson / Sandy McKechnie
Eleanor O'Meara / Donald Gilchrist
1939
Norah McCarthy / Ralph McCreath
Aidrie Cruikshank / Donald Cruikshank
Kathleen Lopdell / Peter Chance
1938
Veronica Clarke / Ralph McCreath
Patricia Chown / Philip Lee
G. M. Black / Jack Kilgour
1937
Veronica Clarke / Ralph McCreath
Aidrie Cruikshank / Donald Cruikshank
Mary Jane Halsted / Jack Eastwood
1936
Veronica Clarke / Ralph McCreath
Aidrie Cruikshank / Donald Cruikshank
Mary Jane Halsted / Osborne Colson
1935
Louise Bertram / Stewart Reburn
Audrey Garland / Fraser Sweatman
Constance Wilson Samuel / Montgomery Wilson
1934
Constance Wilson Samuel / Montgomery Wilson
Louise Bertram / Stewart Reburn
Maude Smith / Jack Eastwood
1933
Constance Wilson Samuel / Montgomery Wilson
Maude Smith / Jack Eastwood
Kathleen Lopdell / Donald Cruikshank
1932
Constance Wilson Samuel / Montgomery Wilson
Frances Claudet / Chauncey Bangs
Maude Smith / Jack Eastwood
1931
Frances Claudet / Chauncey Bangs
Constance Wilson Samuel / Montgomery Wilson
Cecil Smith / Stewart Reburn
1930
Constance Wilson Samuel / Montgomery Wilson
Margaret Winks / Lewis Elkin
1929
Constance Wilson / Montgomery Wilson
Maude Smith / Jack Eastwood
Gladys Rogers / Melville Rogers
1928
Marion McDougall / Chauncey Bangs
Gladys Rogers / Melville Rogers
Veronica Clarke / Stewart Reburn
1927
Marion McDougall / Chauncey Bangs
Constance Wilson / Montgomery Wilson
Elizabeth Machado / John Machado
1926
Constance Wilson / Errol Morson
Marion McDougall / Chauncey Bangs
Isabel Blythe / Melville Rogers
1925
Gladys Rogers / Melville Rogers
Elizabeth Machado / John Machado
1924
Elizabeth Blair / John Machado
Margot Barclay / Norman Gregory
Evelyn Darling / Hugh Tarbox
1923
Marjorie Anable / Duncan Hodgson
Dorothy Jenkins / A. G. McLennan
Cecil Smith / Melville Rogers
1922
Ottawa
Alden Godwin / A. G. McLennan
Jeanette Rathbun / Melville Rogers
D. F. Secord / Douglas Nelles
1921
Beatrice McDougall / Allan Howard
Dorothy Jenkins / C. J. Allan
1920
Alden Godwin / Douglas Nelles
Beatrice McDougall / Allan Howard
1915-19
No competition held due to World War II
1914
Jeanne Chevalier / Norman Scott
Muriel Burrows / Gordon McLennan
1913
Muriel Burrows / Gordon McLennan
Jeanne Chevalier / Norman Scott
1912
Eleanor Kingsford / Douglas Nelles
1911
Lady Evelyn Grey / Ormond Haycock
Eleanor Kingsford / Philip Chrysler
1910
Lady Evelyn Grey / Ormond Haycock
1909
No competition held
1908
Aimee Haycock / Ormond Haycock
1907
No competition held due to Minto Skating Club rink fire
1906
Katherine Haycock / Ormond Haycock
1905
Katherine Haycock / Ormond Haycock